Iowa shows are coming up this week, and tune into KUNI radio, 7:00 pm central time this Monday. I will be performing in a live broadcast hosted by Karen Impola, "Live From Studio One". If you don't live in Iowa, you can still listen online at http://www.kuniradio.org/kunilive.htm Hope you all had a wonderful Thanksgiving, a time to be full with gratitude, and that I am....family, friends and music top my list. I so enjoyed the fall tours and am still recovering from three weeks and 5000 miles on the West tour. Thanks to all of you in SD, MT, WA, OR, CA , AR, NM, CO who came out for the shows. I returned to some favorite venues in South Dakota and Montana. Then shared the stage with some awesome guitarists at the Caterina Winery in Spokane Washington, Jonathan Nicholson and Michael Millham. I highly recommend their music. Did lots of showcasing at the FAR-West Folk Alliance conference in Vancouver, WA. It was great to see some old friends and make new connections. Did my first ever show in Monterey, CA, and then enjoyed 100 miles of gorgeous coastal highway before turning east for shows in the great Southwest...Flagstaff and Santa Fe. It was on this leg of the tour that I crossed 200,000 miles. I marked the occasion with a photo of my odometer and the views out the car windows.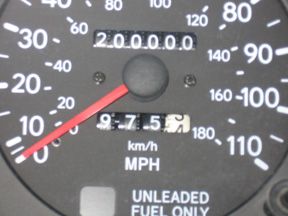 Interestingly, 200,000 miles came as I drove rural highway 46/41 entering Cholame, California, the exact place where James Dean had his fatal crash...kind of eerie!! Fortunately, my little Toyota and I faired better than James Dean and his infamous Porsche. The mechanics tell me there's at least 100,000 more miles in my trusty little Toyota....so tour on my sweet little vehicle. (I have discovered that complimenting and sweet talking my car really works!)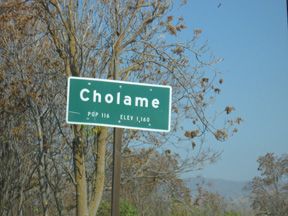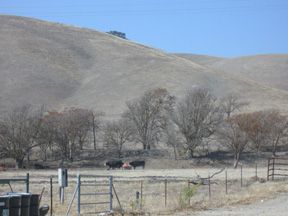 In Denver I performed at the D Note in the most diverse musical lineup of my touring career. I played after a local high school jazz band and was followed by an all girl post core heavy metal band, creepskope. I really enjoyed the metal band. We had a great conversation on issues of women in music and are now myspace friends. Another highlight was visiting the National Music Museum at the University of South Dakota in Vermillion. They have the most incredible collection of old musical instruments. I thought I had died and gone to musical instrument heaven. By the way, I will be giving a noon show at the National Music Museum in February. Below is a photo of winners at the Walnut Valley Festival in Winfield, Kansas, where I performed my winning song "Strawberry Pie"...great festival...great people...great fun!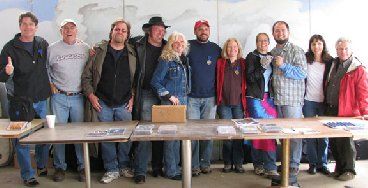 Speaking of instruments and "Strawberry Pie" I finally purchased my very own ukulele so I can perform "Strawberry Pie" as it was meant to be presented. As you can see, I was given a quick lesson from my dog, Bear.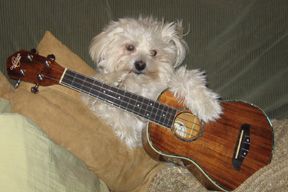 Hope you've enjoyed the little photo album with this newsletter. Things slow down this winter. I'm going to take some time to write, and will be giving some Midwest concerts in Iowa, Northern Minnesota, Kansas, and South Dakota. In January, I'll head to Florida for warmth, performances, and the South Florida Folk Festival. Check the website for additions and changes to the schedule. Stay warm and remember Barb Ryman CDs make great holiday gifts! You can purchase them on the website at http://www.barbryman.com/products.html using Paypal or at my favorite online CD store, CDBABY at http://cdbaby.com/all/barbryman